Hey South Jersey Shore Homeowners, was your air conditioning system installed earlier than 2010? If so, it's likely to have the refrigerant commonly referred to as R22 helping keep your home cool and comfy...but that may become an issue during your next repair visit! Let me explain...
In recent years, the U.S. Environmental Protection Agency (EPA) began phasing out all hydrochlorofluorocarbons (HCFCs) because they were determined to be compounding the depletion of the Earth's ozone layer. R22 refrigerant is the most common HCFC is use today. The process of phasing out these substances began to raise the price of R22 refrigerant as it became more and more difficult to acquire.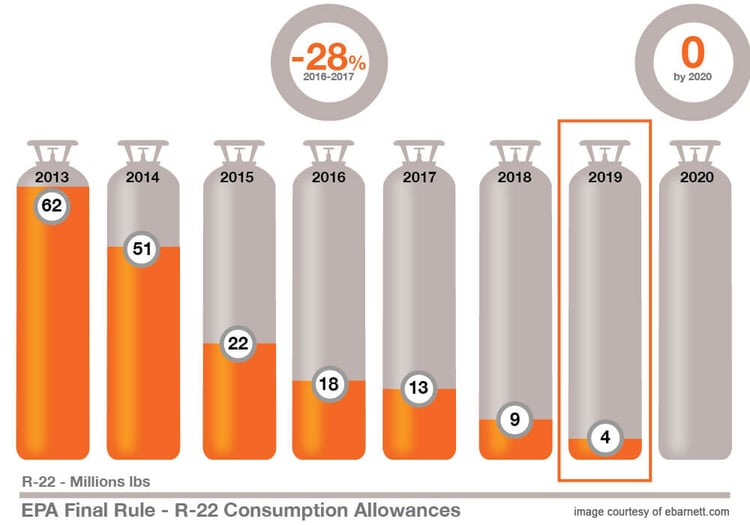 As of January 1st of this year, R22 refrigerant can no longer be produced or imported. Although the phasing out of R22 will eventually be a good thing for our planet, if your air conditioner is older than 2010, your next repair bill may surprise you! But as your go-to resource for HVAC related solutions, we have a few options for you to consider...
While the ban imposed on R22 doesn't actually require you to replace a functioning AC or heat pump system, it will become increasingly expensive to keep and maintain the current system. At this point, only recovered, recycled, or reclaimed supplies of R-22 are available. With this in mind, you are going to need to know your options in order to make an informed decision the next time you need to service or repair your current HVAC system. If your current system was installed prior to 2010, here are a few of your options:


Consider Alternative Refrigerants
While there are alternative refrigerants now available that do not harm the Earth's ozone layer, they are not always the best option. In most cases, R22 is being replaced by R-410A. Since R-410A allows for higher SEER ratings than R22 and is considered safer, it is a good alternative. But R-410A may have a high global warming potential which is currently being debated by many experts and studied by the EPA.


Install New High-Efficiency Equipment
Although the upfront costs of installing a newer high-efficiency HVAC system can sometimes be costly. The long-term investment will pay off in ways you never expected. Not only will you now have a system that is energy-efficient and doesn't deplete the ozone layer, your family will also enjoy superior comfort while saying money on your utility bills. And the best part...we have AMAZING rebates and financing options that will work with your budget! Our team can work with you to outline a plan that works for your family and your budget...


Repair, Repair, Repair
As we said before, the price of R22 refrigerant is subject to a quickly shrinking supply. This will eventually make R22 a very expensive option. "While R-22 remains available for servicing equipment made before 2010, it is important to know that supplies of R-22 will become more limited and the price of this refrigerant may increase," says the Air Conditioning, Heating and Refrigeration Institute.
For the time being, we can still get reclaimed R22 and repair any broken system. But as the availability of reclaimed R22 decreases, the skyrocketing costs of the refrigerant could lead to a very expensive repair bill. You may need to ask yourself, "is it worth continuing to invest so much money in a system in poor condition that will eventually need to be replaced anyway?" That's a choice you'll need to make soon...


Get to Know the Carrier Line of Products
Carrier® products represent years of design, development and testing with one goal in mind – maximizing your comfort! Along the way, Carrier has taken the lead in creating new technologies that deliver the superior quality and energy efficiency you demand while staying ahead of industry trends.
Breakthroughs like variable-speed technology, superior humidity control and units designed specifically for the rigors of coastal area installations, mean there's a model tailored to your needs. Whether you expect maximum energy savings, maximum comfort, minimal sound or all of the above, Carrier Infinity Series Air Conditioners have you covered.
Check out the short video to the right to learn more...
If you are looking for an air conditioner designed to withstand the rigors of the Jersey Shore environment that comes with one of the best warranties you'll find for a coastal unit, take a look at the Carrier Coastal System...you can learn more about the benefits of a Carrier Air Conditioner by downloading their product guide below...
Download Your Copy of the Carrier Air Conditioner Brochure Here...
Are you ready to experience true comfort in your home?

Download this product guide and learn a little more about the benefits of having a Carrier Air Conditioner installed in your home...
If you have additional questions about your options for replacing an older AC Unit, pick up the phone and give us a call at 609-400-1005, we have the answers you need!