It's a Saturday morning in the middle of April. I know it's raining today, but the temperatures are rather warm outside - it's supposed to hit about 70 degrees later this afternoon...
And what does that mean? Air Conditioner season is right around the corner!
When the weather breaks this afternoon, it would be a great time to get a little work done around the house. Hiring a contractor to get your air conditioning system in shape is a fantastic idea, but maybe you're a DIY kinda homeowner. Here are a few do-it-yourself tips for getting your air conditioner ready for the upcoming Spring / Summer months so you'll have a little piece of mind and a cool house this summer!
Take a few minutes and watch this short video where Comfort Bob shares a few do-it-yourself tips for preparing your air conditioning system to run more efficiently this season!
In this short video, Comfort Bob shares these 7 important steps for preparing your AC system for optimal performance this Spring...
Do-It-Yourself AC Tune-Up Checklist:
Be sure to turn off the power to the outside unit
Remove the top of the unit to begin cleaning the interior
Remove ALL leaves and debris from inside the AC unit
Take out your garden hose and wash out the coils of the AC unit
Reassemble unit and turn the power back on
Go inside and change the filter (very important)
Turn on the AC Unit and test the unit
If your air conditioner is not cleaned or maintained properly, it will reduce its efficiency by 5% per year, which will eventually shorten the life of your air conditioning unit! Below is a coupon to get you ready for those hot summer days! Are you ready to improve your indoor air quality, improve your home's energy efficiency and improve the lifespan of your air conditioning unit with an A/C Tune-up for ONLY $69.00? (offer valid for a limited time) Redeem your coupon now! 😀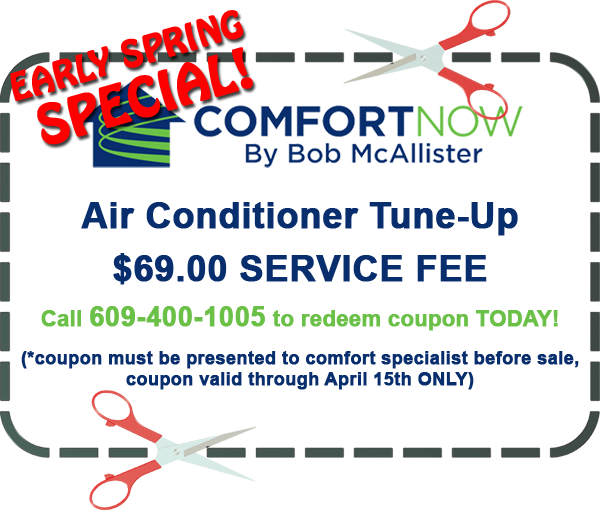 If you need assistance or a little help with preparing your air conditioning system
to run more efficiently this season, give our team a call at 609-400-1005...